Custom Art Print Reproductions
Artwork is personal, and finding that perfect piece for your home should be as well. That's why Julia Contacessi Fine Art offers a collection of custom-made art reproductions. With a variety of options — from framed paper prints to gallery wrapped canvas reproductions and your choice of size — you'll find just the right piece for your home.



PAPER PRINT WITH A WHITE MAT AND FRAME



UNMOUNTED AND UNFRAMED ROLLED CANVAS PRINT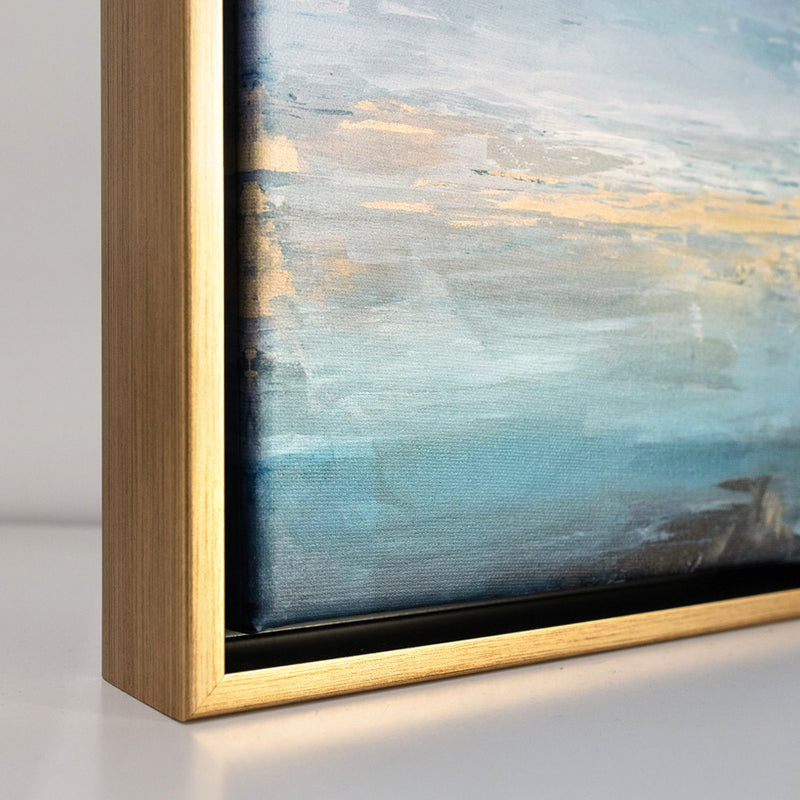 GALLERY WRAPPED CANVAS PRINT WITH A FLOATER FRAME
Understanding All of the Options
There are a number of Julia's works offered as print reproductions sold through this site. A reproduction or print is created from a professional, high-quality digital capture of one of Julia's original paintings. The digital file is then reproduced to your exact specifications once you've placed your order. Only the highest quality process and materials are used to create your custom art reproduction. This page details the different formats offered so you can select what will work best for your needs. You have several choices when creating your custom-made print —Material, Finishing, Size and Hanging Orientation. Review these details below. In addition, please allow 7-12 business days for production. Once your order is complete you will be emailed the shipping details to track your order.
Material- You can choose between a Paper or Canvas print.
Paper Print- A paper print is printed to order on fine art paper using archival inks. These prints come with an additional border allowing for a variety of finishing options. Ultimately, a paper print will need to be protected from things like dust and wear and tear. You will also need a way to display or hang a paper print. Framing is the usual solution and most people opt for a paper print because they like the finished look of the artwork with a bit of "air" or "white space" that a mat and frame create.
Canvas Print- A canvas print, also printed with archival inks, but this option is printed on high quality, museum-grade canvas. The finished print has a luster appearance. This material is a bit more durable than a paper print. As such, it is finished differently — stretched over wooden stretcher bars. The canvas is secured to the back of the bars with staples which are not visual when the work is hung. No framing is required with a canvas print because the stretcher bars are the support and method for hanging.
Size- You can select from a number of size options retaining the right proportions for your selected work. In additional to your selected size a 1 inch border will be added to unframed prints and 1.5 inches to unmounted canvas prints.
Hanging Orientation- Most works can be hung vertically or horizontally. Select what is best for your needs. Your work will come with the proper hardware attached for the proper hanging position.
What material should I select?- If you're not sure what is right for you, asking yourself a few of these questions may help with your selection:How would you like to display your art? Canvas prints are more durable than paper. As such paper prints must be framed under acrylic glazing for protection when displayed. Our canvas includes a UVB protectant and does not require any additional protection for display.Do you want a frame around your art? If not, canvas is the way to go. It can be mounted over stretcher bars and hung without any frame.Do you wan to add "air" or "white space" around your art? A mat will do that! Selecting a paper print with frame is the way to go. With the addition of a mat you'll create a visual break around the artwork. 
ADDITIONAL INFORMATION
It is important to note that some of Julia's original works use metallic silver and gold paints. Special attention is used when photographing these works to translate these effects to traditional inks. Print reproductions are not produced with metallic inks but will print as they appear in photographs. A digital printout from your own home printer will give you a good sense of the look. All reproductions are made-to-order based on desired preferences allowing for personal customization and less waste. Because of this level of customization we are unable to offer refunds or exchanges.

If you are looking for additional information, visit the FAQ page for answers to some commonly asked questions; including details about Julia's process and information about the work showcased on this site.
Finishing- Depending on your material selection you can choose to Mount or Frame your reproduction.Paper prints are offered unframed if you already have a frame that you would like to use or plan to frame your work later. Select this option if you are looking for an economically priced, superior-quality, unframed print.
Framed Paper Prints- We offer the option to have your paper print matted and framed in a number of frame styles. If you select this option your artwork will arrive ready to hang on your wall. Note, frame sizes are approximations as frame thickness varies by style. Not all frame styles are available internationally.
Canvas prints are offered un-mounted (rolled) if you would like to stretch your work later. Select this option if you are looking for economically priced shipping.
Gallery Wrapped Canvas Prints- We offer gallery wrapped canvas prints which are mounted over wood stretcher bars and are ready to hang. There is also the option to add a floater frame. A floater frame is a style of frame where the art is mounted from behind making it appear as if it is not touching or "floating" within the frame. This style does not use any glazing or a mat. It's only offered for works on canvas and is usually deeper than a traditional frame, as it has to cover the stretcher bars the artwork is mounted to. The style that is sold with Julia's custom reproductions is 2 inches deep.